Unstoppable Surge in Calgary's Housing Market: Record-Breaking Sales and Skyrocketing Prices Create Urgency for Buyers!
Affordable Condos Lead the Charge as Migration and Strong Demand Propel the Market to Historic Heights
by Paul Dojcinovic (2x ICON Awarded Agent at EXP Realty Calgary)

 To Download the current full Calgary Real Estate market update here: https://bit.ly/Aug2023-CalgaryMarketStats 
In a jaw-dropping turn of events, rising interest rates seem powerless against Calgary's red-hot real estate market, as home sales soar to astonishing heights. July witnessed an astounding 18 percent year-over-year surge, with a staggering 2,647 sales reported – the highest ever recorded for the month!
Driving this meteoric rise is the remarkable success of the apartment condominium sector, which has witnessed significant gains, catapulting the overall market to unprecedented levels. However, amidst the celebration, caution remains warranted, as year-to-date sales still reflect a decline of 19 percent compared to the previous year.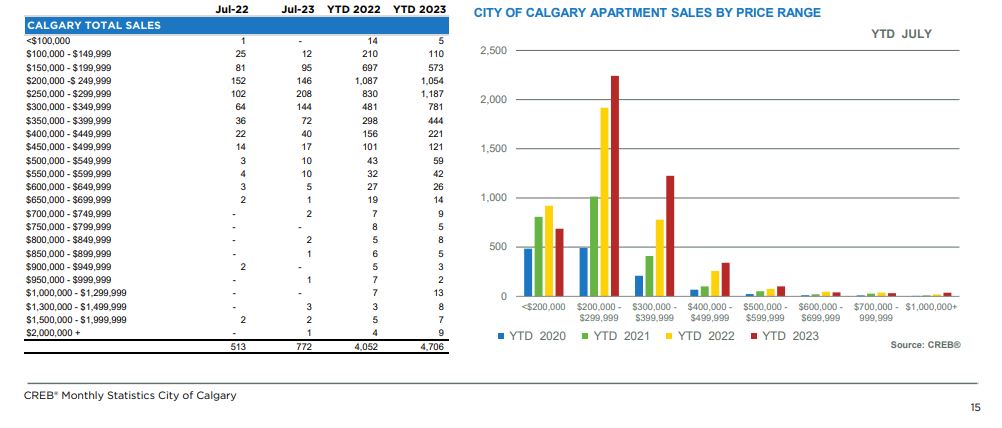 As summer brought with it the typical seasonal slowdown, both sales and new listings cooled off slightly from the previous month. Yet, this had only a marginal impact on inventory levels, which stubbornly clung to near-record lows dating back to 2006's July. With an impressive sales-to-new-listings ratio of 82 percent and a minuscule 1.3 months of supply, sellers are undoubtedly in the driver's seat, creating a sense of urgency for buyers to seize opportunities before they slip away!
Behind this unyielding demand lies a dual-force driving factor. On one hand, migration to the province continues unabated, bringing in new residents seeking a piece of the Calgary dream. On the other, the region's relative affordability has shielded it from the higher lending rates that have impacted other markets. These combined forces have bolstered the housing demand, defying expectations and fostering an atmosphere of competition among eager buyers.
CREB® Chief Economist Ann-Marie Lurie sheds light on the situation, stating, "Continued migration to the province, along with our relative affordability, has supported the stronger demand for housing despite higher lending rates." However, amidst the jubilation, challenges persist, with limited supply across the resale, new home, and rental markets. This scarcity continues to exert upward pressure on home prices, putting affordability to the test for those aspiring to enter the housing market.
Speaking of prices, the unadjusted total residential benchmark price has broken all records, reaching an eye-watering $567,700 in July (This marks the seventh consecutive month of gains and sets prices over four percent higher than the previous peak witnessed in May 2022). For buyers, it's a clear sign that waiting might not be an option, and making a move now could save them from even steeper prices down the road! 
But for sellers the time to realize the gains in the market prices may be right now. All though it's tough to time the peak of any market, Calgary has yet to be affected by the rising interest rates. However, that's not to say that it won't happen. I experienced the boom markets of 2006-2007 and 2013-2014 before the bust recession markets in 2008-2011 and 2015-2018. So if you want to realize the current gains in the real estate market and have a place to sell… with low inventory and current market conditions still favoring the seller, now might be the best time to sell! As migration continues and affordability endures, the window of opportunity may soon narrow. So, buckle up either way! 
To explore the full stats
release on July's captivating housing market for Calgary and surrounding areas, click here! https://bit.ly/Aug2023-CalgaryMarketStats
NOTE:
Time is of the Essence: Seize the Opportunity Now!
Are you eager to dive into the real estate frenzy and make your mark in Calgary's thriving market? With a sales-to-new-listings ratio of 82 percent and inventory levels near a record low, the urgency to act cannot be overstated! Let Paul Dojcinovic from EXP REALTY be your guiding light as you navigate through the challenges and opportunities presented by this scorching market.
Meet Paul Dojcinovic: Your Seasoned Expert Realtor
When it comes to making the most significant investment of your life, you deserve nothing less than a seasoned expert Realtor by your side. Meet Paul Dojcinovic, an industry leader renowned for his unrivaled expertise, personalized approach, and exceptional negotiating skills. Whether you're a first-time buyer, a seasoned investor, or a seller looking to maximize your return, Paul has the experience and knowledge to ensure you achieve your real estate goals.
Your Path to Success: Paul's Winning Strategies
With Paul as your trusted guide, you'll gain access to exclusive off-market opportunities, real-time market insights, and a network of industry professionals to streamline your real estate journey. His proven track record in navigating competitive bidding wars and securing dream properties for clients speaks volumes about his commitment to excellence.
Unlock Your Future in Calgary's Real Estate (Let's Chat!)
For a 1-1 chat with Paul Dojcinovic from EXP REALTY click the image below